Everyone knows Jeannie Bartholomew, the iconic, badass swoop freestyle chick rocking the world with her CP skills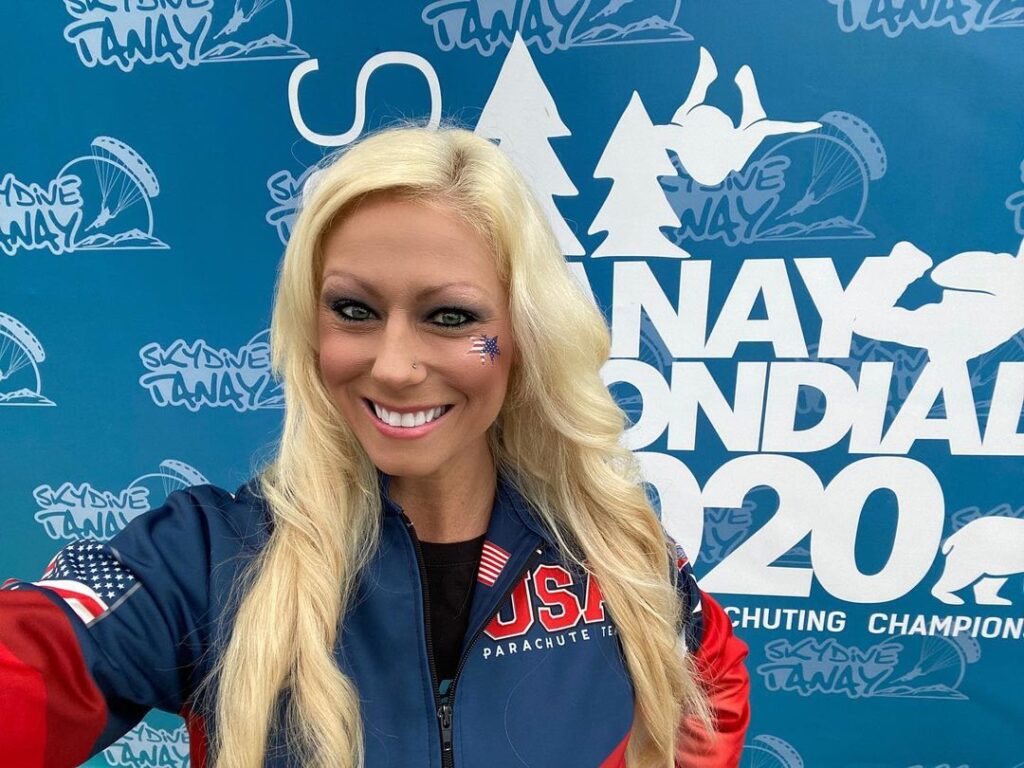 Jeannie is a professional competitive canopy pilot, owner and instructor of the Alter Ego Project CP School and owner of the largest regional canopy piloting league in the world, the Florida Canopy Pilot Association. She's incredibly driven and a wonderful human being. We're so happy she spent the time to tell us about her fascinating life and philosophies.
---
Hey Jeannie,
How did you get such a perfect life – traveling the world, working in the sport you love, winning medals in competition, inspiring others and working with the love of your life?
This could be a two word answer 😂 – Hard work!! You can't just have natural talent and be at the top. It takes a lot of hard work, discipline and sacrifice. People see the things we post on Facebook but don't see the hours we spend in the gym working out, the training camps, the nutrition and the things we give up to be where we are. You can achieve anything you set your heart on, most people just aren't willing to put in the work and make the sacrifices it takes to get good.
When you were at school, what did you think you would be when you grew up?
An FBI secret agent! 😂 Growing up I had so many different dreams and they constantly changed. I was never satisfied and refused to settle until I found something that lit my heart on fire. Then I found canopy piloting and met Curt. My heart is still on fire 😉
Have you grown up ?!!
In some ways, but others not. I just can't see myself ever living a conventional life!! I feel like I'm still in my 20's. Age is just a number right?
How many jumps, what type, how long in the sport?
I started jumping in 2006, I have 8,500 jumps, mostly canopy piloting with a little AFF, freeflying and minimal angle experience. But mostly CP. My biggest passion is CP Freestyle, it allows me to express myself and it's just so much fun!!
Jeannie doing what she loves best – CP freestyle
What's your nationality, and where you live?
I'm American. We live in DeLand, Florida, but train at Skydive Sebastian. You just can't beat the views, the people and staff. It's truly our home!!!! My Father's side is Hungarian and my Mother's side Italian.
Describe yourself in 5 words or less
Driven, Focused, Happy, Fierce and Fun.
What did you do before you were a canopy pilot?
In Skydiving I was the Sales and Marketing Manager for Mirage Systems for 8 years. Before that I was a professional Cheerleader. I owned an All Star Cheerleading gym in California which produced multiple National Championship Teams. I also choreographed for many Junior High and high school competitive cheerleading Squads. I was a Head Instructor for the United Spirit Association teaching camps, clinics and judging competitions all over the United States. I've been a hairdresser, personal trainer and fitness competitor. Then when I thought I'd given up cheerleading for skydiving, I moved to Florida and got talked into being the Cheerleading Program Director for Stetson University for 4 years. I've worked for Express Clothing Brand and have a strong passion for high end fashion; I have worn many hats!
Whom do you admire, who are your mentors and why?
I admire my husband more than anyone. His discipline and relentlessness is something I have never seen in anyone ever. He is the Michael Jordan of the CP World; he works harder in every aspect of his life than I could imagine. He's just on another level. My mentors were my husband Curt Bartholomew, Wyatt Drews, Jay Moledzki and Greg Windmiller.
What's your pet hate? Inside and outside the sport
My biggest pet peeve inside the sport is people loading the airplane and slouching down instead of sitting up on a full load. When you hop n pop for 90% of your jumps and you're always the last to load the plane, it's really uncomfortable when you are all squished up at the door wearing a 35lb weight belt. Outside the sport I don't really have any.
Please list your skydiving achievements
I held 19 female canopy piloting records in CP ranging from State, National and North American. My greatest achievements so far is placing 3rd in Jeddah Saudi Arabia at Swoop Freestyle. It is still one of the highlights of my career. Second is placing 4th in Freestyle at the World Cup in South Africa in 2019, I was the top female freestyle pilot as well! I also won an International CP competition in Italy at one of my favorite Italian drop zones which made that pretty special. I have a lot of overall and event podium finishes but I'm always chasing my husband and that gold medal 😉
2-way wedding swoop
What was your best skydiving moment ever?
My greatest skydiving moment was when Curt and I did a two-way swoop into our wedding day. At the time it was the best two-way we've ever done; it might even be the best one ever. We were completely in synch, and landed in front of all of our friends and family stopping at the exact same spot in unison! It was the best day of my life swooping in and then marrying my best friend. Julio with Liquid Sky made us these super cool Bride and Groom swoop shorts. We bust them out every year to jump on our anniversary.
Why did you choose Canopy Piloting as a discipline?
It was the most difficult and I love to go fast. I grew up with fast bikes, cars and skateboards. Both my parents raced bikes and cars, so I got my love for speed from them. When I got into skydiving and realized how difficult the canopy side of things was, I gravitated towards that. The constantly changing winds and conditions created the greatest challenge. I've never looked back!
Tell me about team Alter Ego, how did that start and what are your aims?
Alter Ego started in 2009 but truly formed in 2010. It would take a whole book to cover the whole journey but it's been a pretty incredible one. Back in the day the PD Factory Team was winning everything. Once Alter Ego formed the team it started dominating the canopy piloting scene! We won 8 world titles in a row with a total of 9 so far. Curt's stats alone with his win percentage and medal count are truly incredible.
The goals for the team in the future are to continue competing, in addition to training the next generation of canopy pilots.
Do you see more women getting into CP because of being inspired by badass ladies like you, Cornelia and Maxine?
I truly hope more women start competing. When I started, I thought there would be tons of girls by now! A few come through for a season or two and either get hurt or realize how difficult it is and end up not coming back. I try to encourage women and help them as much as possible while they are training and competing in hopes of building a bigger female presence in CP.
When you run canopy courses, what's the piece of advice you repeat most often?
Do some type of canopy drill on every single skydive (as long as you have clear airspace). Don't just open up and fly a pattern and land. You need to develop the muscle memory in order for a particular movement to became a reaction when you need it.
The second thing I say is #FLYSEXY. This is part of the technique I use to teach people to flare. A lot of bad landings come from improper flare technique which ranges anywhere from arm placement, rate, to the type of flare they are doing etc. I've come up with ways to make it fun and help jumpers fix their flare and have more control over their wings.
What's the biggest thing we could do to improve safety in our sport?
More people should focus on the canopy side of the skydive. There is so much knowledge out there that can keep people safe and prevent serious injury, but people tend to take courses only in the beginning and then focus on freefall, unless they want to learn to swoop. We offer a ton of courses from basic through advanced competition canopy piloting. Don't just stop after getting your B-License. Most accidents happen under canopy.
About Curt, how did you meet each other? What was the very first thing that went through your head?
We met at a wedding reception of one of Curt's really good friends and mentors that was being held at a drop zone. When I saw him I thought he was so super-hot, but then realized he was there with his girlfriend. We ran into each other a few months later at Invasion and talked all night about canopy stuff. I really liked him but kept it friendly to be respectful of his relationship. A few months later she broke up with him and he was posting on Facebook how upset he was. I messaged him and invited him to come up to fly canopies for the weekend. We had the most amazing time together and not shortly after, he got a job at Skydive Deland and moved into the apartment next to mine.
What have you learned from each other?
We've learned so much from each other over the past 11 years it's hard to pick just one thing. We spend 24 hours a day together; training, coaching, competing, cooking, working out, being animal parents and loving each other. We know exactly what the other person needs before they know they need it. I would say the biggest thing we've learned is how to truly be Teammates in every sense of the word. How to help lift each other up when we need it, how to push each other, motivate one another and how to use our strengths and weaknesses to become the best together in competition and business. We've learned how to love each other fiercely and accept each other's imperfections. We've learned how to be the Bartholomews and to build a legacy that will last forever.
4 Year Wedding Anniversary video
What kept you sane during lockdown?
Honestly, our home gym and Peloton workouts kept me going! We have a seriously awesome gym with all the equipment you need to stay in the best shape for swooping. We own a beautiful home in Florida and we don't get enough time there, so being locked down wasn't the worst for us. It was a good time to reset, make future plans and connect with people.
Did you gain anything?
What did I gain? 5 lbs… of muscle!! Seriously though, I was able to shift my focus more on the business and get better systems in place and catch up on all the things we never have time for.
What was the first jump like for you after lockdown?
My first jump back was on my competition freestyle canopy and I did a sweet lazy girl covering most of the pond. It felt so amazing!! It's like I never stopped jumping. I focused on visualization and meditation over the lockdown. Even though I wasn't skydiving I tried to keep my mind focused like I was.
Skydiving right after Covid was awful having to wear a mask, but necessary. We had pretty strict protocol with the FLCPA when we started running meets again, but those strict measures resulted in no-one getting Covid from attending the comp!
When you go to overseas events you always make the time to see some local culture, tell us why
Pat Thomas, owner of Sun Path, told Curt and I this one important thing when she sponsored us – "Don't just see the drop zone when you travel. Plan extra days and see the world." I always make sure to plan a minimum of 3 days, but usually we spend a whole week experiencing the culture and learning about the history.
What's been your favorite 'extra-curricular' destination?
My favorite place is Prague, it is super-touristy but if you know the cool little places to go it's just so awesome! It's so dark and medieval looking. I love everything about the city. The Charles Bridge is mysterious and I could spend hours looking at the statues! We have a restaurant we go to every year overlooking the bridge and the sunsets are just incredible hitting it. My other favorite place in the world is Italy; I could live there. It's such a beautiful country with so much history. I love the food and wine and all the old buildings.
What are your future goals in skydiving?
I want what everyone wants; to win!
I also want to keep coaching and helping others find the same passion I have for parachute flight. To build confident canopy pilots that can handle any situation thrown at them.
What are you most looking forward to?
Our coaching school has started this really cool new avenue of Adventure Travel with The Alter Ego Project. It's a trip or two a year where our students that have taken courses up through Orange (Obstacle avoidance and landing out) travel with us to a special destination and get to experience an adventure with skydiving, out-landings in cool places and all the cultural stuff we do when traveling. We started with Egypt and will be announcing the next Alter Ego Adventure Trip soon!
---
Jeannie…
…is proudly sponsored by Sun Path Products, Performance Designs, Cookie Helmets, Larsen & Brusgaard, SSK Industries, LiquidSkySports, Skydive Sebastian, selection.com, Elite Tans, Fly Sight, Brooks Running and Start Skydiving.
You can find out more about the Alter Ego project or book a canopy course at their website, The Alter Ego Project.
Watch out for the forthcoming interview with Curt!
---
Don't miss Catching Up with…